---
THERE IS NOTHING COOL ABOUT NECK PAIN. TAKE YOUR FREEDOM BACK!
The RTLA Neck Air Therapy Device is an easy to use inflatable neck device that helps relieve spinal pressure to promote healthy recovery from your neck related pain.
WHY DO YOU NEED THIS?
If you are unable to enjoy life to its fullest because your are suffering from:
HOW DOES IT WORK?
Supporting all the right areas to align your neck and spine, this neck traction device helps train your neck posture to maintain its upright position.
🕒Tip: Use 5-10 min daily. 
☑️ ALIGN NECK & SPINE, IMPROVE POSTURE - Attention to computer, touch pad and cell phone users: Keep your head up! This device helps prevent forward-and-down head motion when using laptop or mobile devices and stretches stiff muscles around the neck and shoulders area to help correct and maintain proper neck posture.
☑️ LASTING PAIN RELIEF - Lasting relief from neck and shoulder pains, tensions, stress, pressure, muscles spasms, head & cervical vertebral area, and numbness.   
☑️ INSTANT RESULTS - This affordable device helps increase the inter-vertebral space between compressed joints, which allows for better blood circulation and results in Instant Pain Relief for Compressed Nerves. No more neck stiffness. Live pain-free and enjoy active lifestyle. Feel the results in minutes.
☑️ EASY TO USE - Use the inflation pump to slowly raise the pressure to a comfortable stretch.
☑️ LIGHTWEIGHT & PORTABLE - With its inflatable design, treat your pain in the comfort of your home or take it anywhere you go.
☑️ A PERFECT GIFT - Treat yourself and your loved ones with an amazing neck massage in as little as 10 mins with this revolutionary product.
☑️ SATISFACTION GUARANTEED - We offer a 30 Day Money Back Guarantee. 100% refunded if does not deliver results as promised. No Questions Asked!
FAST, Proven & Effective Neck,Shoulder & Back Pain Therapy Without The Need For Surgery.
SOFT, Adjustable Neck Support - Alter it To Fit Your Neck Perfectly
Dramatically Corrects Posture, Helps Debilitating Neck & Back Pain
Lightweight and Portable, Ideal For Travel & Work
Feel Healthy and Mobile QUICKLY & Naturally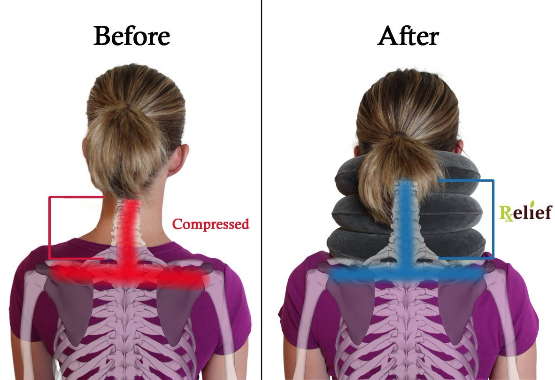 Discover The Instant and Effective Neck, Shoulder & Back Pain Reliever Device!
The RTLA Neck Air Therapy Device can stretch and relax the neck and shoulder muscles with the exact amount of traction while improving spinal posture. The stretching can decompress the spinal disc, which may minimize bulging and ease the pressure on nerve and blood circulation. 
IMPROVES MOBILITY FOR A BETTER LIFE AND BETTER HEALTH
INCREASES BLOOD CIRCULATION
ALLEVIATES STIFF AND PAINFUL JOINTS
How Does Inflatable Neck Support Brace Work? Super Simple & Safe
The Inflatable Neck Support Brace device is a genius neck pain relief brace pillow which is simple and safe to use. The device is designed to release pressure and tension from the neck, back and shoulder alleviating pain.
Instructions for use: (detailed instructions come with the device)
Place the device around neck.

Adjust the Velcro straps to fit your neck.

Using the easy hand pump, inflate the brace pillow till your neck sits comfortably.

Use it while at home, at work (great for sitting at the computer!) or traveling.

To deflate, after the treatment, press the safety ball up into the raised cavity which allows the device to deflate, then remove the device.
Who Will Benefit Most From A Neck Traction Device?
Anyone who has stiff or sore neck muscles
Anyone suffering from compressed disc or pinched nerves
Anyone who has pressure that has built up in their shoulders and neck
Anyone who spends a long time in front of their computer 
The Benefits Of Using Neck Traction Devices 
Relieve Your Stiff Or Sore Neck
Get Relief From Migraines And Headaches
Improve Your Posture
Increase Your Overall Range Of Motion
Improve Your Mood
Sleep Better
Save Money And Time
Don't lose your head to technology!
SATISFACTION GUARANTEED - EASY REFUNDS
If for whatever reason, you decide you are not satisfied, you can easily and quickly contact our helpful customer support to get an easy refund. We just ask that you at least give the product a 2 week try and we'll refund you, no questions!